Raymond Frank Fisher was originally from Aurora, Indiana. In 1901, at the age of twelve, moved with his family to Woodburn, Oregon. Fisher attended Oregon Agricultural College (now Oregon State University) prior to beginning a career in the automobile business.
Raymond Fisher's Chevrolet dealership, which opened in November 1922, was located at what later would be known as 8407 N. Jersey (now Lombard), the NW corner of Jersey (Lombard) and John. This location was Peninsula Motor Sales (June 1920 - December 1921) and Fields Motor Car Co. (December 1921 - November 1922)
From a 1919 issue of the St Johns Review "St Johns Hardware will build a new garage at Jersey and John Streets".  It is interesting to note that St. Johns Hardware  sold gasoline for a period of time, their pump being located on Burlington Avenue alongside the building.  This was the first gas pump in North Portland.  How long St. Johns Hardware retained an interest in the automobile business is something we hope to uncover in the months ahead.
At this time William R. Evans and Charles S. McGill were co-owners of St. Johns Hardware.  William passed away in the 1920's leaving Charles as the sole owner.  William had been the one who wanted to expand into the automotive garage business.         

In addition to selling Chevrolet's Raymond Fisher also sold Durant automobiles for a period of time.  Durant Motors, Inc. was established in 1921 by William "Billy" Durant after being dismissed from General Motors, a company he co-founded with Frederic L. Smith.  Durant automobiles were produced from 1921 to 1926 and again from 1928 to 1932. The Durant automobile is considered to be an example of an "assembled" automobile because so many of its components were obtained from outside suppliers.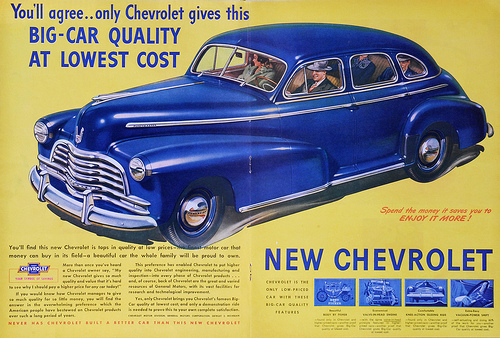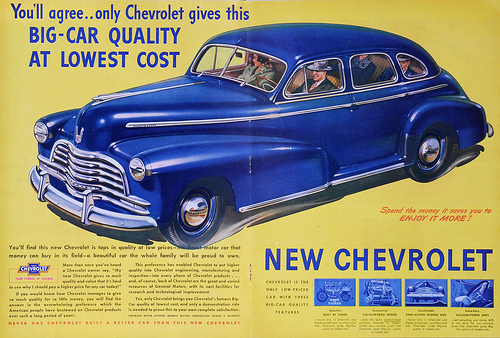 Wes Herwick recalled at one of our Heritage meetings that he had been on "a list" and was lucky enough to be told by Raymond F. Fisher Chevrolet he could purchase a new 1946 Chevrolet four-door Stylemaster Sport Sedan.  His Chevrolet was the 5th Chevrolet allocated by G.M. to Raymond Fisher's dealership after WWII.  In the postwar period, four-door sedans displaced two-door sedans as the most popular body style.
One resource lists the price of a 1946 four-door Stylemaster Sport Sedan at $1,123. The shipping weight was 3,150 lbs. Production total 75,349. In the Stylemaster series only the driver was supplied with a sun visor. A second visor could be ordered as an accessory.
Civilian car production had stopped on January 30, 1942 due to the war effort. When WWII ended passenger car production started up again October 3, 1945 for the 1946 model year. On November 21, 1945 the UAW began a 113-day strike against GM, seeking to bargain on vehicle prices but eventually settling for a wage increase.
To get a new vehicle so close to the end of the war Wes must have felt he was one of the lucky ones. Typically one put their names on many lists at various dealerships hoping to increase their chances of getting a new car. Due to a parts shortage Wes's Chevrolet was originally delivered without a spare tire. Many early models were shipped with wooden beams as bumpers, to be exchanged when chromed steel replacements became available.
The 1946, 1947, and 1948 model Chevrolet's were little changed from 1942. Chevrolet's first all new post war vehicle was the 1949 model.
The rarest of the 1942 to 1948 models is the 1946 eight passenger station wagon of which only 804 were made. The highest production model was the 1948 2-door Aerosedan of which 211,861 were produced.
Wes' Chevrolet was this Stylemaster Sport Sedan model in Ensign Blue
Fleetline Aerosedan in Sport Beige and Scout Brown.
Gilbert Overstreet once owned a 1948 Chevrolet like this.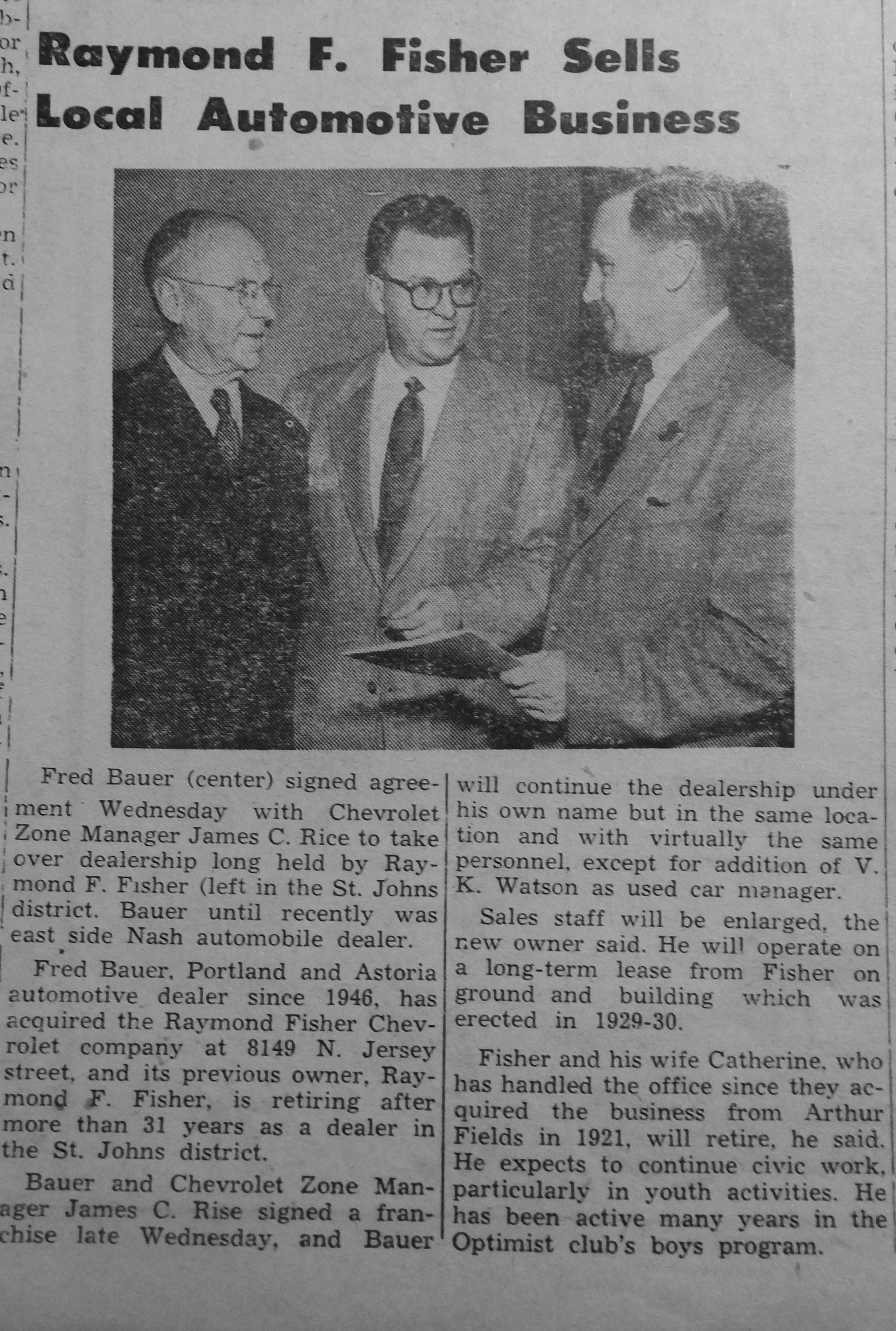 In his later years Raymond was often seen driving around St. Johns in a Chevrolet while wearing his trademark straw hat.  His wife Catherine usually by his side.
The 1929 Tudor-style home once owned by Raymond & Catherine Fisher has been placed on the National Register of Historic Places.  The nominating form may be viewed here.
~ Navigation Hint ~


Those of you who use a mouse press the Control key and move the thumb wheel at the same time. This will allow you to increase or decrease the size of the photo / article.
To return to the normal screen size press the Control key and the number "0" (zero).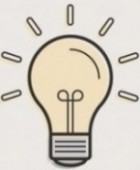 Last Updated 2/22/17