Automobile Dealerships in St. Johns - The 1920's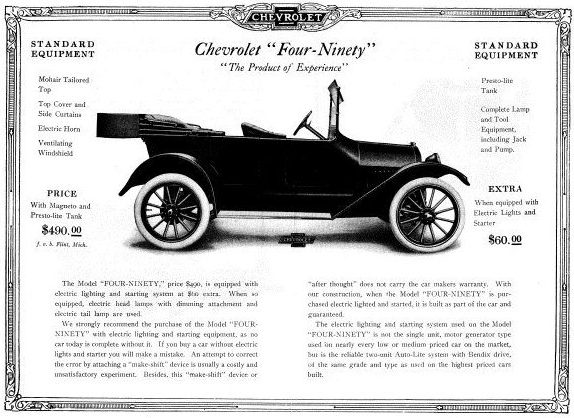 The Chevrolet "Four - Ninety", introduced as a 1916 model, was meant to sell for $490 (same as a Model T at the time) but didn't remain at that price for long.  Electric lights and starter would became $60 so that it could remain at that $490 price point.  In 1917 Chevrolet gave up trying to keep a relationship between the model name and it's price. 


This location was Peninsula Motor Sales (June 1920 - December 1921) and Fields Motor Car Co. (December 1921 - November 1922).  Raymond Fisher took over the Chevrolet dealership in November 1922.  You are looking at 8407 N. Jersey (now Lombard), the NW corner of Jersey (Lombard) and John.

Continue on to Raymond F. Fisher Chevrolet
♦ ♦ ♦
MacFarland - Robinson Ford Agency was located in 1922 and 1923 at 205 (7238 N Burlington) which was directly across from City Hall.  McCamey Motors bought them out in August 1923 and in January of 1924 moved into their new building at 8501 N Lombard (Pattie's Home Plate Cafe).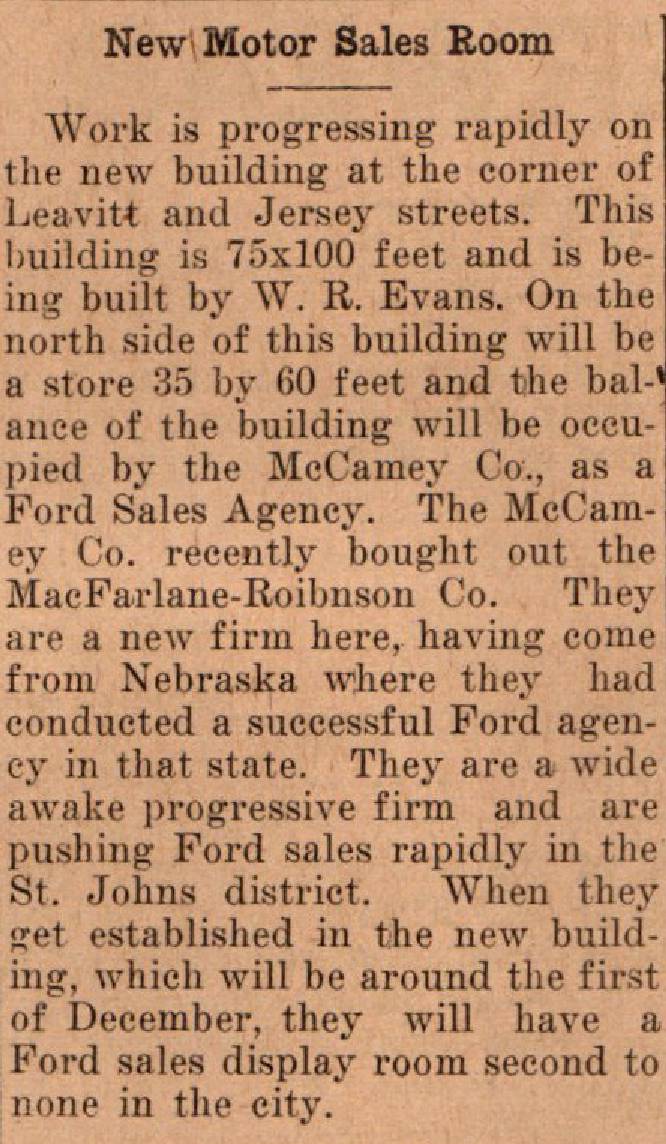 November 1923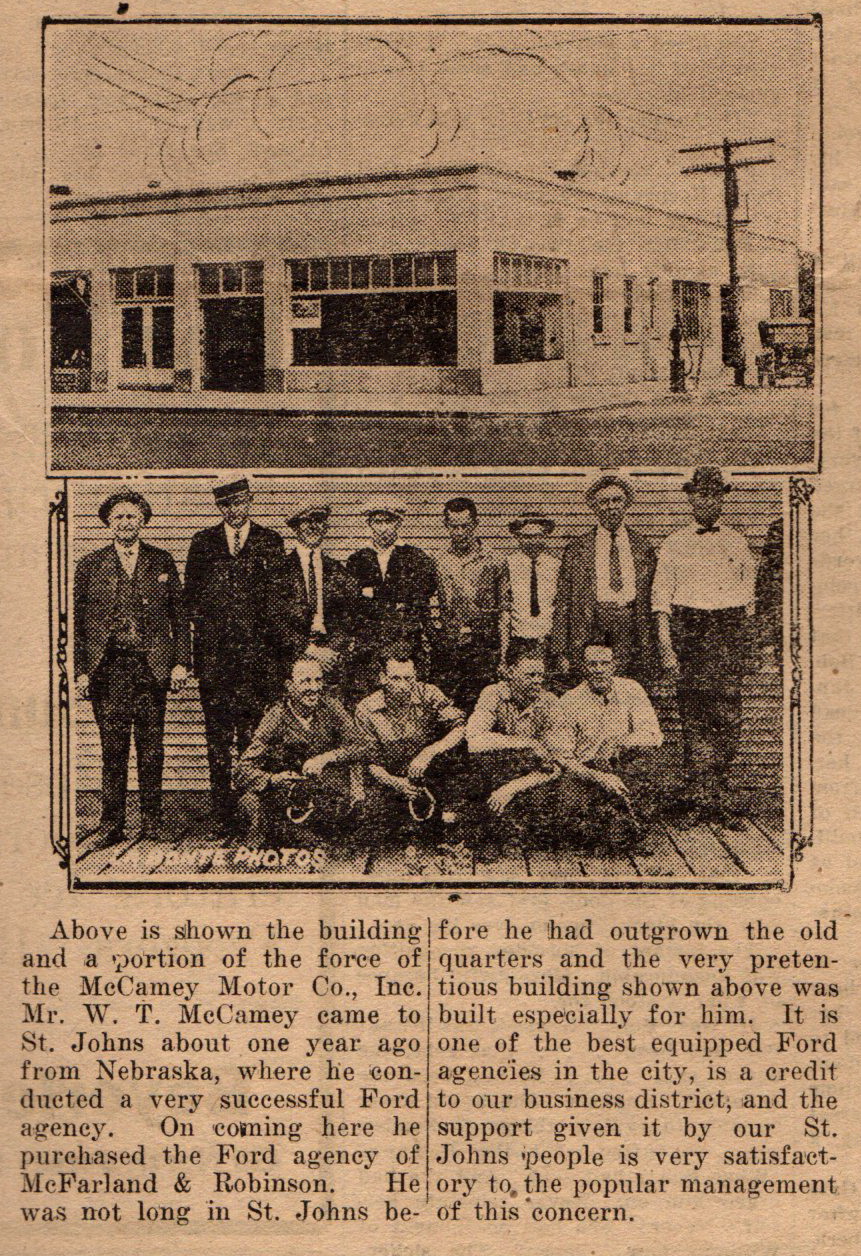 8501 - 8511 N Lombard home today to Pattie's Home Plate and The Man's Shop. Photo taken July 1924, from the St Johns Review.  Learn more about the McCamey Motor Company here.
♦ ♦ ♦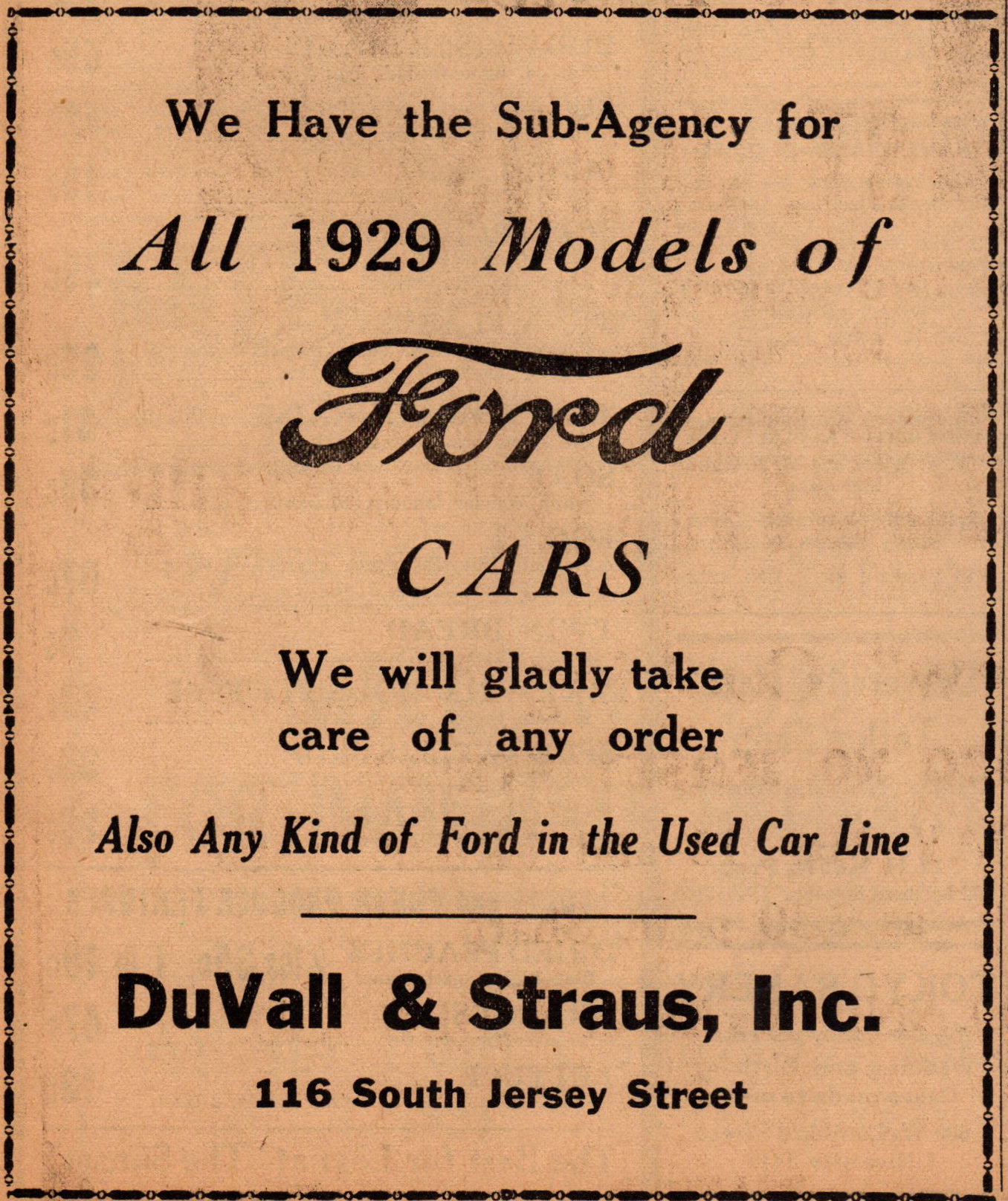 Ad from the St. Johns Review February, 1929.  We are unsure as to when the Ford agency changed hands, but perhaps it was during 1928 or early 1929.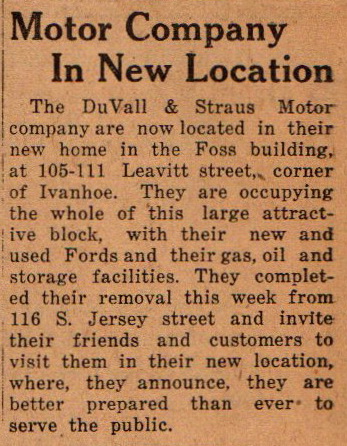 December 1929.  This is the location that had been the Evans-Roberts Chrysler dealership. (See below)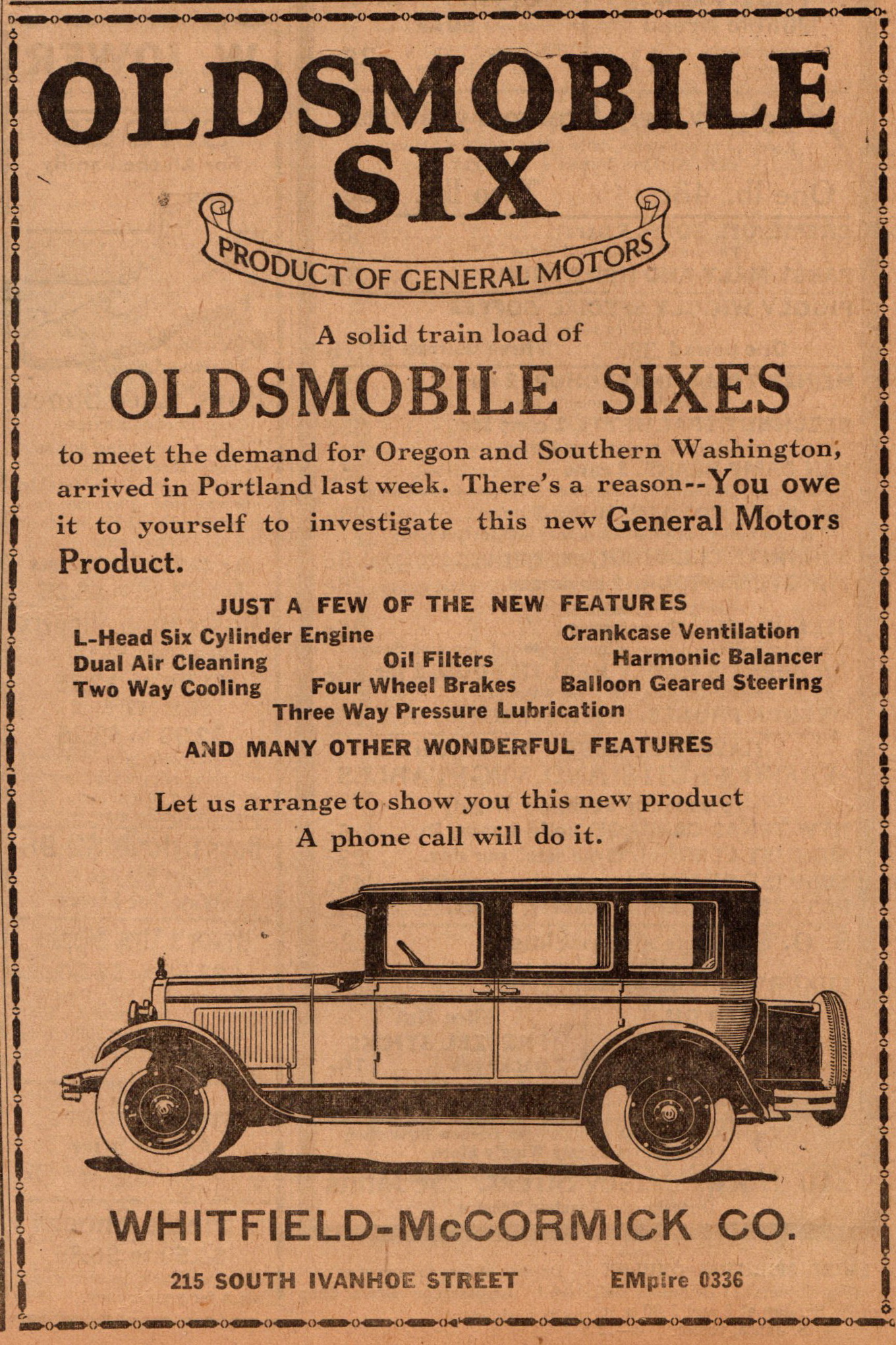 March 1927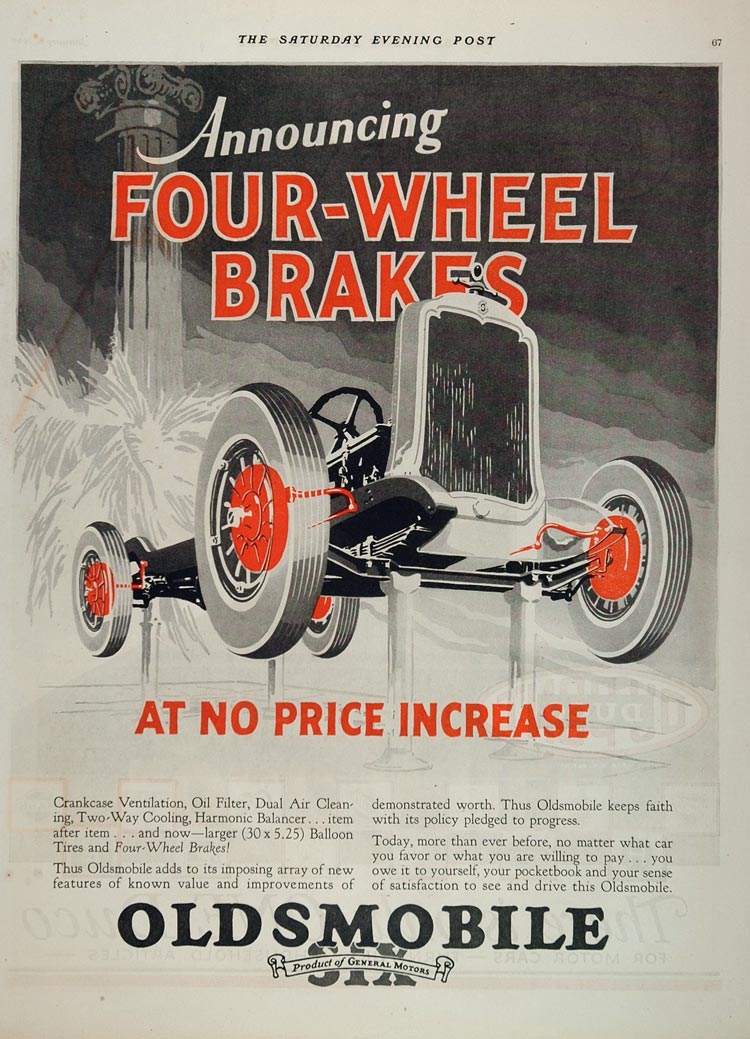 The four-wheel brakes promoted in the advertisement above are mechanical brakes.  Hydraulic brakes weren't available in the Oldsmobile until 1934. 
1927 Oldsmobile Coach Sedan
Oldsmobile came to be known as the experimental division of General
Motors.  The 1927 Oldsmobile was the first car to use chrome plating on it's
radiator shell.  The radiator shell on most other makes remained nickel until 1929. 

While the car came with many "wonderful features" the spare tire was an option.  More than 73,607 1927 Oldsmobile's were manufactured. The bodystyle platform was shared with Buick beginning in 1926.

♦ ♦ ♦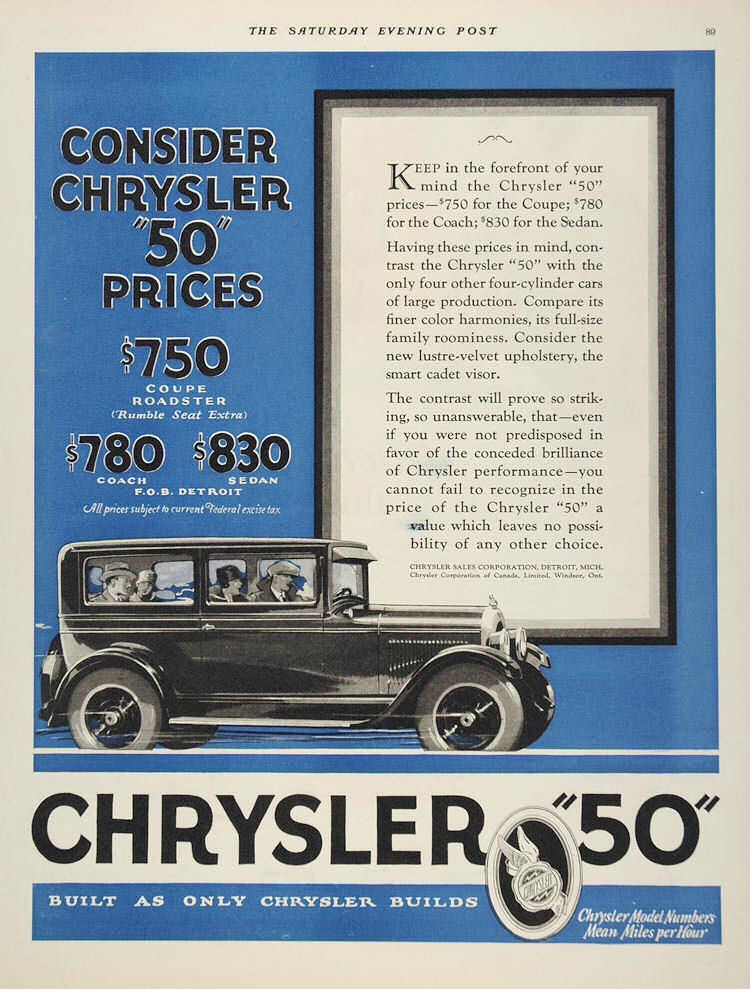 The Chrysler line of automobiles began in 1924, featuring a 6-cylinder engine. For 1925 a lower
priced 4-cylinder engine was added to the line up. Among the features of these early cars were four-wheel hydraulic brakes.
In 1928 the Plymouth and DeSoto brands were introduced. The Imperial name was first used in
1926, but did not become a separate make until 1955.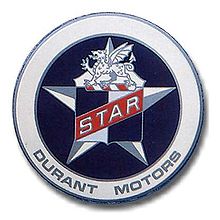 The Star was an automobile marque that was "assembled" by the Durant Motors Company between 1922 and 1928. Also known as the Star Car, Star was envisioned as a competitor against the Ford Model T & Chevrolet.
Raymond Fisher sold the Durant in 1922.
Durant Motors attempted to be a full-line automobile producer of cars and fielded the Flint, Durant, and Star brands.  Durant Motors began in 1921 and folded in 1931.
Initially, Durant Motors enjoyed success based upon Billy Durant's track record at General Motors.  However, when sales failed to meet volumes sufficient to sustain Durant Motors holdings, the firm's financial footing began to slip. As a result, Durant Motors began losing market share and dealers.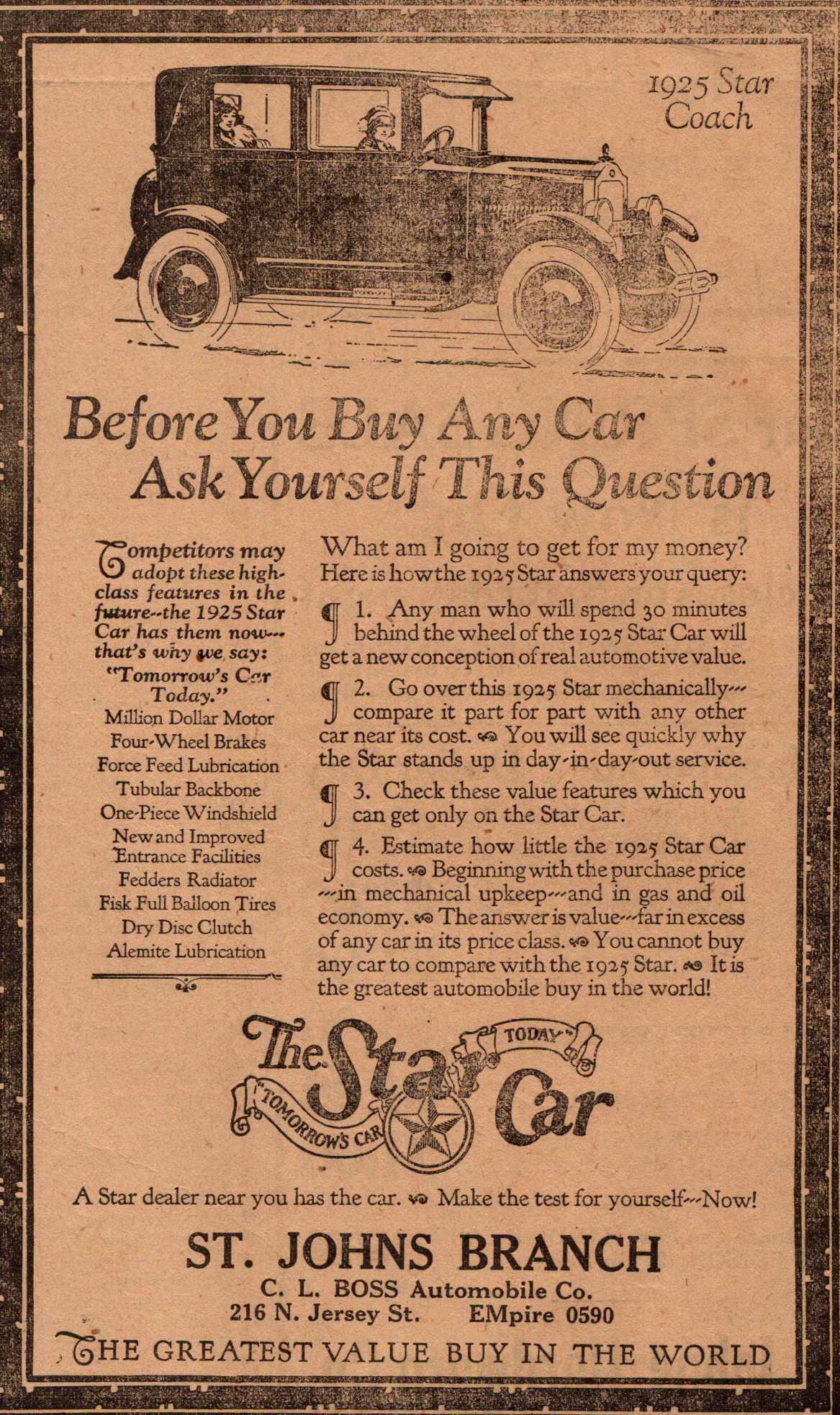 There is a new dealer in town,  Wm. F. Gix takes over the Durant Star franchise.  Harbor Motors, a Ford dealership, would later operate from this same location.  Advertisement promoting their grand opening April 1926.  Today this would be just down from the Wishing Well.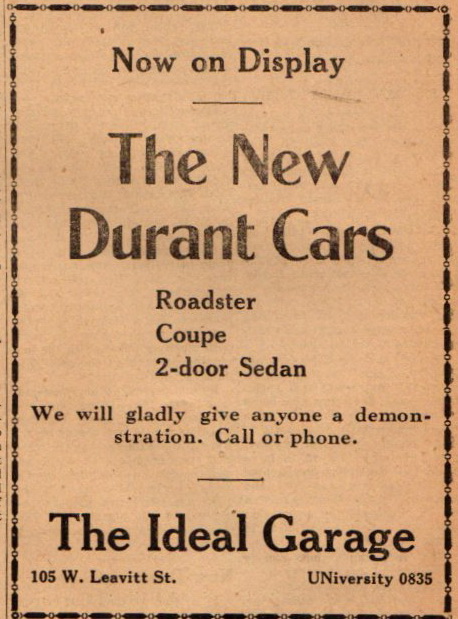 Once again we have a new Durant / Durant Star dealership -  August 1928.  This time we're located at the Ideal Garage, former location of the Chrysler Dealership.  Spoiler Alert!  In 1929 the Duvall & Straus Ford agency will claim this as their spot. 

August, 1928.  Mr. Mitchell advises you not to doddle.  This is going to be your third and last chance to purchase a Durant Star in St. Johns.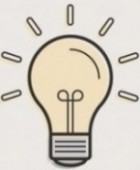 Last Updated 10/28/16