Baltimore, Maryland to Vancouver, Washington to St. Johns - this was my family's trek between 1920 - 1926.  At the age of 6, I have some memories of Vancouver but my most vivid ones begin with the advent of the move to St. Johns in the city of Portland in Oregon.  I was 6 1/2 years of age.  Dad was to begin work at the Linnton plant of the Portland Gas & Coke Co.  The year was 1926, eight years after the Armistice of 1918 (end of WWI) and three years prior to the fateful date in 1929 when the great Depression was supposed to have begun. 

My family, besides Mom (Eva) and Dad (Eddie) included an older brother Bob, and a younger brother Charles.  The fourth son, Edward, was to arrive on Washington's birthday or was it Lincoln's?  Anyway, the year was 1932.  Edward is really the only true St. Johns product in the family.  Shakelford's Nursing Home on N. Central St. was his birthplace.  I can still remember the rotund, jovial Mrs. Shakelford and her house of young ones.  I am sure that a few of St. Johns citizens were greeting into this world by the very lovable Mrs. S. and her small staff.  A truly great man was there for Ed's birth - Dr. Swart, our family physician for many years.  How well I remember the many house calls he made in serving all of us.  He was never without that little black bag and he was always a reassuring sight, night and day, when one of us was ill.  Her served St. Johns well and for many years.  We were always indebted to him for many kindnesses.  
However, this is not to be a history of my family - rather, a sort of reliving of those wonderful young years in St. Johns when life was not so complex as today and of the times, events, things, and people of St. Johns as I experienced or knew them.  This is what I remember.  Please accept vagueness on my part as some names and places escape me.  I purposely did not want to research for complete authenticity - these are simply my memories.  I realize that I will omit many people and events.  Please bear with me and accept what "I think" I remember!

St. Johns is still St. Johns but we have both changed.  As Thomas Wolfe once wrote, "You can't go home again."   I have not been present to see the changes made over the past 30 years or so.  But really, I prefer and like the St. Johns which is in my "mind's eye."  The St. Johns I grew to love between 1926 and 1954 when my parents both died.  My romance with St. Johns began and ended with Mom and Dad.  I left in 1954.
I hope to be as coherent as possible with my recollections.  I ask the reader to accept lapses, repetitions, and ramblings.  I have discovered that attempting to think of and list names and events chronologically is a very difficult task.  Anachronisms will occur - there is no other way. 
c. 1926 - 1934.
The house on Willamette blvd. just off of St. Louis was the first of six that sheltered me in St. Johns.  The address escapes me but I think it was the third house from the corner on the north side of the street.  The Edwards family lived next door on the east side.  As I remember, The Edwards' daughter, Boots, (in her teens) was my first great love - she was a knockout!  Whenever she noticed little ole me, I just wilted. 
Dad began his job with the Gas & Coke (in the power house) at Linnton and Mom enrolled us kids in the Assumption Catholic grade school on Smith St. at Calhoun and just across Burr St. from Roosevelt High School.  The Assumption school, a two-story blockhouse structure, still stands but there is now a modern building out in back where we used to play during those blessed free periods of recess and lunch time.
(Prior to the construction of Assumption Village several historical structures were moved to a location just north of what had been Radke Auto Parts)
Oh those were the days!  Learning to be an alter boy, selling chances on just about everything for the church bazaars, getting cookies from the good Sisters of St. Francis for a job well done, crowding around the old oil stoves in the winter for warmth, and walking through the cloak- rooms and smelling all the goodies in the brown lunch bags.  One could tell who had peanut butter or fried egg sandwiches for lunch.  It was really great on a rainy day - the moisture mixing with those other smells.  Let's face it - wet clothes, peanut butter and fried eggs just don't mix in crowded quarters, WHEW!
It is really something how smells bring back specific times in our lives.  I think peanut butter is my most vivid.  I can remember Dad bringing home a large quart of still hot peanut butter (only 10 cents) from the first Fred Meyer market located in the old market area in downtown Portland.  We were very happy to get peanut butter sandwiches during those years of the Depression.  I often wonder why I didn't tire of it - but I still love my ole standby, peanut butter.  Nothing has changed but the price.
Back to the early school years.  I have fond memories of the Franciscan nuns who put up with us during those eight years of torture for both sides.  To name a few:  Sisters Alba, Gemma, Dellis, Jubella, Diomeda, and the tough ram-rod of the Order, Sr. Josetta. This wiry little dynamo was the principal and a tough one - even Walter Muck, the one boy who could grow a beard, could not put anything over on her.  This woman could be a whole story in herself.  I liken her to the warden whom the lifer remembers from his long days in prison.  However; now that I am a teacher, I can readily understand and appreciate her efforts and actions as she taught and supervised the "gang."  She swung a wicked stick and we respected both her and the ever present rod.  She did not administer her "hacks" in the usual spot - we had to take them on the open palms of our hands.  This style of torture almost disappeared one day when Carvel Kirsch pulled his hand away and Sr. Jo swatted her own hand.  I am sure that the good sister did not revert to prayer in that instance.  At least, not aloud!   
...I learned at an early age that being an athlete had its moments.  Did we ever think we were smart when we all got out of classes to practice either baseball or track.  Yes, Father (Coach) Mike Hiller was a big favorite of ours.  Sister Jo must have blessed him many times as the troops followed him to the great outdoors and freedom with the best of excuses.  The beauty of it all was the fact that all of the boys had to be athletes.  We were not blessed with great numbers and one was either a high-jumper or an out-fielder whether he wanted to be or not.  Who cared when we could get out of the dungeon and away from penmanship, spelling, or whatever.  Rah-rah-rah!  The big goal in those days was to win the All-Catholic track meet held annually at Multnomah stadium or to claim the mythical grade-school baseball championship of the North district.  The good Sisters just never seemed to understand and we could have cared less.  I guess our sense of values was different than theirs.  Who knows?  We didn't give it much thought.  
One of the highlights of a day at school would be the chance we had to witness some of the action after school on the Roosevelt High campus.  Don't misunderstand me -  I mean athletic action - not some of the kind that was experienced during the 60's and perhaps even today.  The close proximity of our school to the high school was a great thing for us kids.  All we had to do was cross Burr St. and there were our "hero's."  We watched many of the Roughrider greats of that era in action including football, baseball, soccer, and track.  What a thrill it was to watch the great Joe Gray (out of Holy Cross school) run practice drills.  And what an education we received when Coach Hal York would get his point across to a big lineman like Stan Anderson (of Portsmouth) who was later to star at Standford U.  One famous line of Coach York that I remember well was, "KEEP YOUR TAIL DOWN AND YOUR HEAD UP!"  At least that was the general message and Mr. York had a voice like a fog-horn.  I had the opportunity to know Hal in later years and discovered that he was really a very mild man.  In those years, if he even looked at us small-fry we would take off and go play marbles or pegs.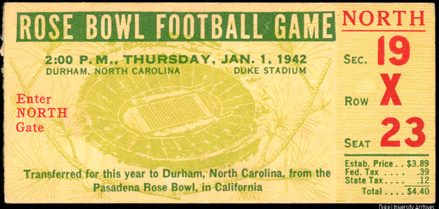 We all loved the red-headed Joe Gray.  He was our idol and we knew that he would make All-City and go on to greater grid glory - which he did.  Brothers Gene and Dick were to follow Joe and all went to Oregon State and wrote football history.  Who can forget the transplanted Rose Bowl game of January 1942 when Gene and the OSC gang beat Duke, 7-6 back in Durham, North Carolina?  Doc Prothro, who later coached OSC, played on the Duke team.  I always thrilled when I saw the films of that game.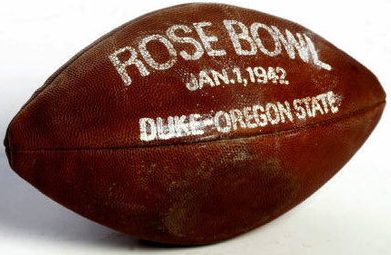 ( Dale Wilkens should have done a fact check on the final score.  Oregon State beat Duke 20 to 16.  For more information about the 1942 Rose Bowl Game click here. )
Oh, we had many idols in those days - to name a few:  Mel Embrae, Hig Mebebius, Terry Shrunk, Eddie Adams, Gene Adams, Ev Phillips, George Sabah, Ray McNeice, Goose Goslin, Len Younce, Chet Maliski, Doug Gray, Lefty Laverne, Wayne Cutler, Clem Pilip, Warren Magnusen, and many others.  I was saddened to learn of the deaths of Eddie Adams and Terry Shrunk.  We always thought that Terry was the greatest soccer player in the city and watched him perform in the City League after he left high school.  His was very colorful career as was Ed's and others.  It was always a great thrill to watch Eddie catch a ball game for the old Bevos at Vaughn St. park.  There would be a long list of those athletes who went on and made it in the big-time from the Peninsula area.  I was to have the chance to know Len Younce well when he played at Ore. state and prior to his stint with the New York Giants of the early NFL.  I think it was in the summer of 1940 that I played baseball with Len on the Valsetz Logger team from Valsetz, Ore.  Bill Parry and Ralph Muir were on that club also and we played a sort of "outlaw" schedule with teams from Oregon and Washington.  What a summer that was - working in the saw-mill and playing ball.  Who could ask for more?  
Back to the grade school days.  One cannot mention the Assumption school without including two very fine men - both priests.  The afore-mentioned Fr. Miller and his aide Fr. Gordon.  The latter was my boy-hood idol for so many good reasons.  I came to love this man who greatly influenced my life.  I was lucky to have a great visit with him a few years prior to his death.  Both of these priests were great lovers of baseball and sports in general.  They spent many hours coaching our baseball and track teams.  They did their best to get us ready to hold our own with teams from James John, Portsmouth, Holy Cross, and Holy Redeemer over on Portland blvd. near Jefferson High.  We had a very scrappy nine - long on spirit and short on talent.  We had only 10 boys so that gave us one sub.  Carvel Kirsch was our port-sider and Ed Dethloff threw from the right side.  Walt Muck was on first, John Medak at second, Bill Hannan on short and Bob Wilkens at third.  I did the catching with Walter White, Kenny Walton and Chuck Wilkins in the outfield.  As I remember, our bench was very thin and when the good Father looked for a pinch-hitter, he was usually met by an empty bench.  I suppose the pitcher who did not have the duty was called upon -  I don't remember it all.    
What great games we had with James John.  They had the likes of Roy Harrington, Walt Younce, Joe Evans, Clint Cameron, Roy Vanderwall, Jack Windle, Rich Schifbauer, Johnny Larson, and the Monroe bros. Len and Bob.  They were tough especially when big Harold Talt was healthy and hitting the long ball.  Portsmouth and Holy Cross were also tough opponents.  Who can forget the Erceg boys, the Sahahs, the Trusky bunch, the Gritsmachers, the Prentice gang and the fellows like Pat White, Bill Parry, Ralph Muir, Leo Maguigin, Ted Philip, Orm Carter and a host of others.  Someday I would enjoy watching Roy Harrington and his Grant High team in action - I haven't seen Roy for almost 40 years.  And right here, I must mention Roy's father, Vern who reffed the wrestling bouts in Portland for so many years.  I can still remember "Strangler " Ed Lewis decking Vern one night but solid old Vern returned to the ring with a patch over one eye and finished the bout.  Not many of the "meanies" fooled around with Vern.  All of us in St. Johns were proud of him and I used to look for him each Sunday when he attended the little church just across the street when we lived on Richmond and Hudson streets.  I think Vern's father was the minister of that church, or so I remember.   
Getting back to houses - the one on Willamette Blvd. was a short stay for us - the next move took us to Richmond near Fessenden.  This was to be the first of three houses we inhabited on Richmond.  This one was on the last block just above Fessenden.  A Mr. Rogan had owned the house - I don't remember whom we rented it from.  On one side of us were the Mondas - Hugh, Ray, Wally, and Marie.  On the other side were the Tolles - Jimmy was about my age.  We were later to move into the Tolles house right next door.  John "Barney" Graham lived across the street and next to him was a great family with kids galore.  They had a roof that had a perfect slope in front and back for "anny anny" over.  We spent many hours there circling that house and putting down a path that I sure is still there.  In the next block. towards Lombard, were the Likens, Betty and Bill; the Van Antwerps (the older daughter, Allison, was my second great love and I still love the name) lived on the corner in a nice red brick house - earlier, Gladys Twambley had lived there with her grandmother.  Over on Charleston St. was Bob Amerein.  He was the reason I became a baseball catcher, I suppose.  He owned the only catcher's mitt in the neighborhood -  I wore it everytime I could be my hands on it.  It was shiny black and something to be coveted.  Besides, I wanted to be a catcher like the great Joe Poepping.