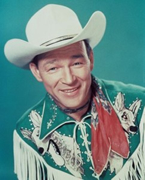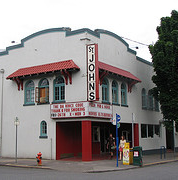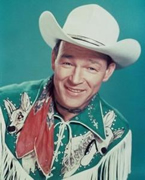 What is the connection between Roy Rodgers and St. Johns? When Roy Rodgers came to visit his aunt, who lived in St. Johns, it has been reported that he put on a show for the local kids at the St. Johns Theater.
Roy was one of the most popular Western stars of his era. Known as the "King of the Cowboys", he appeared in over 100 films and numerous radio and television episodes of The Roy Rodgers Show. His show ran on radio for nine years before moving to television from 1951 through 1957.
Rodgers, who's real name was Leonard Slye, started out in show business as a singer. In early 1934 Roy along with three other musicians, formed the Sons of the Pioneers. By the summer of 1934, the popularity and fame of the Sons of the Pioneers extended beyond the Los Angeles area and quickly spread across the country through short syndicated radio segments that were later rebroadcast across the United States. After signing a recording contract with the newly founded Decca label, the Sons of the Pioneers made their first commercial recording on August 8, 1934. One of the first songs recorded by the group during that first August session was "Tumbling Tumbleweeds" written by Bob Nolan. Over the next two years the Sons of the Pioneers would record 32 songs for Decca, including the classic "Cool Water".
From his first film appearance in 1935, he worked steadily in Western films, including a large supporting role as a singing cowboy while still billed as "Leonard Slye" in a Gene Autry movie. In 1938, when Autry entered the United States Army Air Force, Slye was immediately rechristened "Roy Rogers".
In the Motion Picture Herald Top Ten Money-Making Western Stars poll, Rogers was listed for 15 consecutive years from 1939 to 1954, holding first place from 1943 to 1954. He appeared in the similar Box Office poll from 1938 to 1955, holding first place from 1943 to 1952.
Rogers was an idol for many children through his films and television shows. Most of his postwar films were in Trucolor during an era when almost all other B westerns were black-and-white.
With money from not only Rogers' films but his own public appearances going to Republic Pictures, Rogers brought a clause into a 1940 contract with the studio where he would have the right to his likeness, voice and name for merchandising. Roy Rogers was second only to Walt Disney in the amount of items featuring his name.
The Sons of the Pioneers continued their popularity, and they have never stopped performing from the time Rogers started the group, replacing members as they retired or passed away (all original members are deceased). Although Rogers was no longer an active member, they often appeared as Rogers' backup group in films, radio, and television, and Rogers would occasionally appear with them in performances up until his death in 1998.
Rogers was also twice elected to the Country Music Hall of Fame, first as a member of the Sons of the Pioneers in 1980, and again as a soloist in 1988. To this day, he remains the only person elected to the Country Music Hall of Fame twice.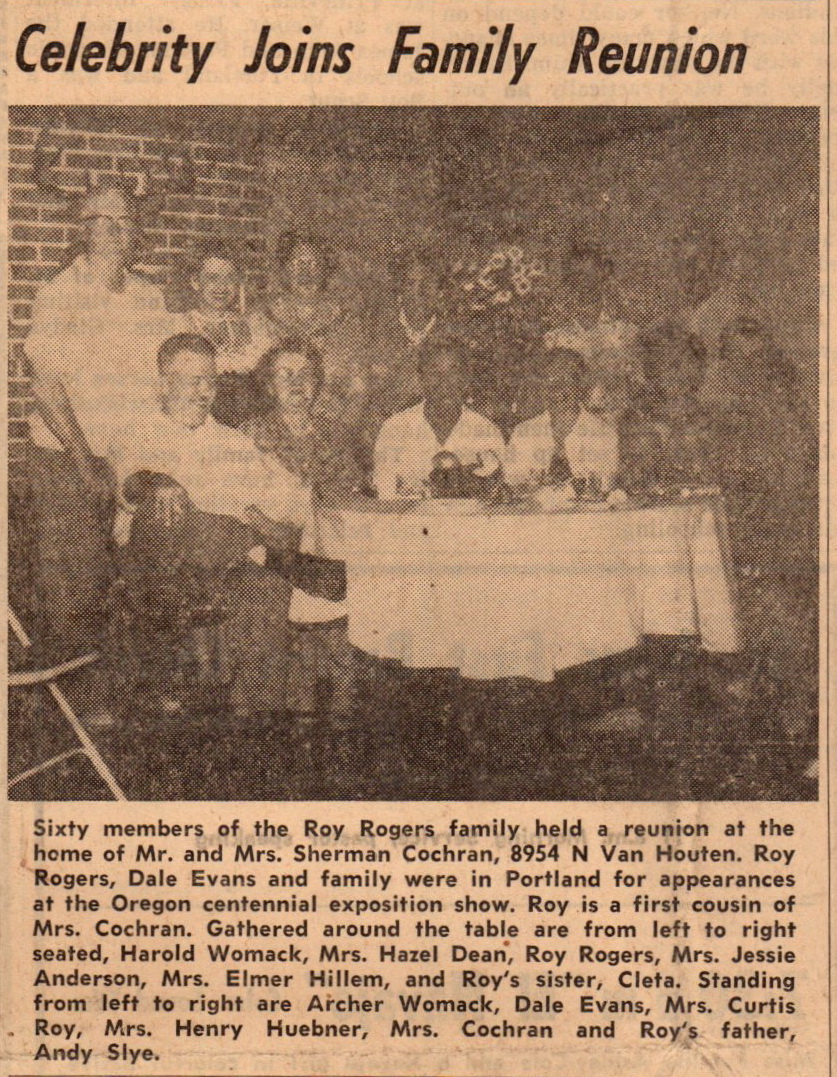 August 1959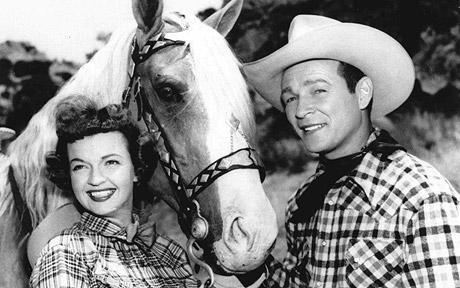 Roy Rodgers and Dale Evans's famous theme song, "Happy Trails", was written by Dale, made popular as a duet to sign off their television show.   (Source: Wikipedia)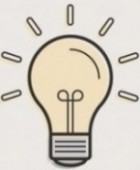 Last Updated 7/22/16