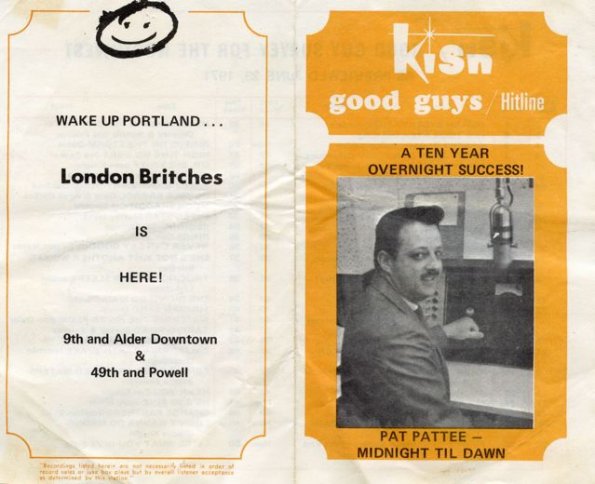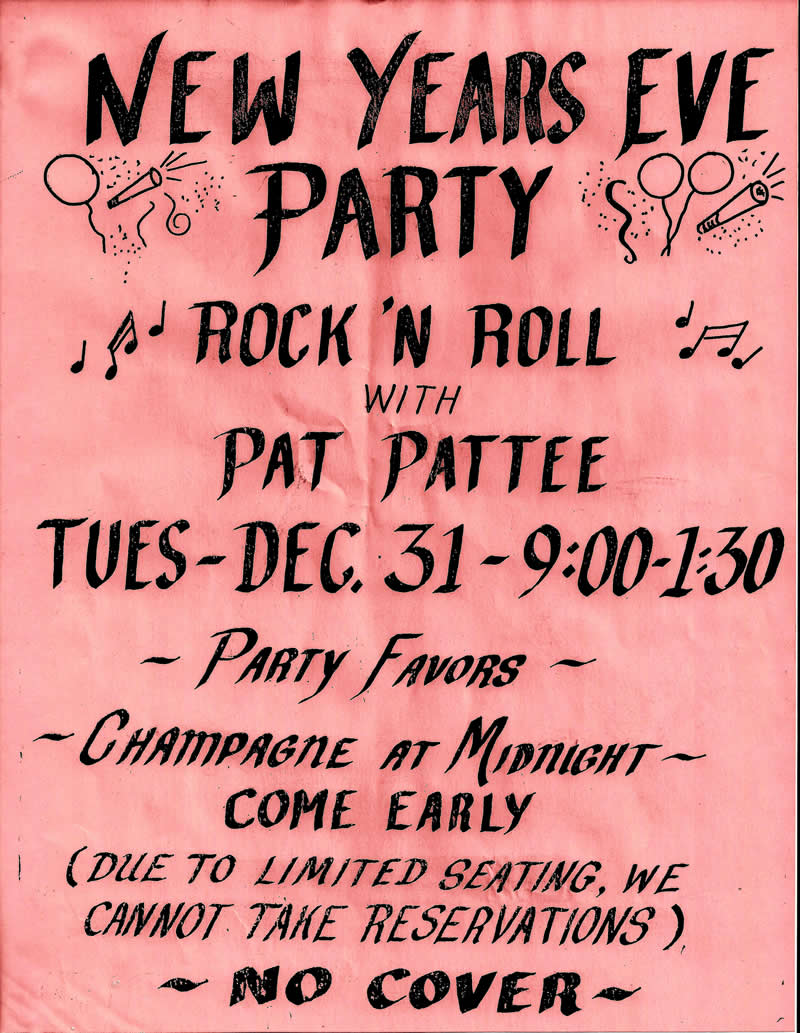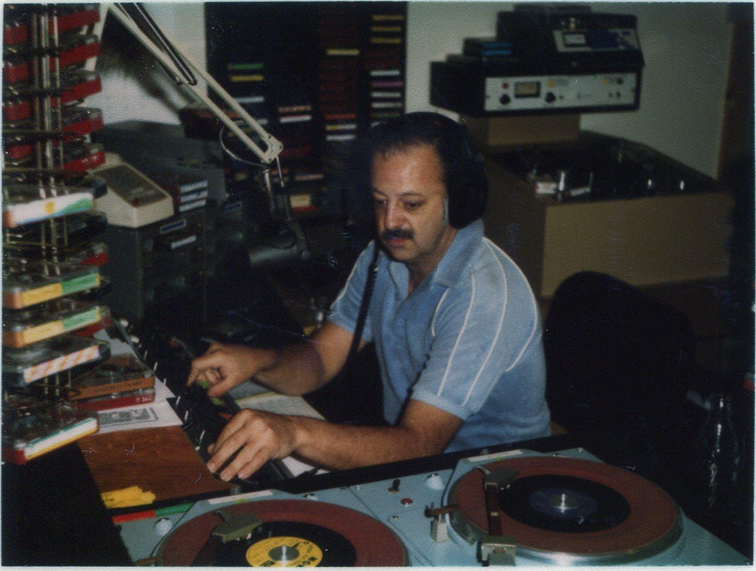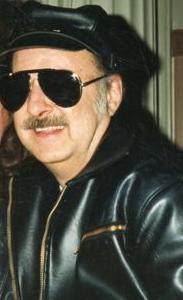 "May you live as long as you want, and want to as long as you live" -  Pat Pattee
Pat Pattee's Radio Resume
KDAG 550 Portland, Oregon (1958)
KCAP 1340 Helena, Montana
KWIK 1240 Pocatello, Idaho
KOIL 1290 Omaha, Nebraska
KISN 910 Vancouver, Washington (1961)
KLSC 1410 Portland, Oregon (1973)
KAAR 1480 Vancouver, Washington (1983)
KKUL 1410 Portland, Oregon (1987)
Fun Fact:

On May 1, 1959 control of KVAN was transferred to Star Broadcasting, Inc. and call letters changing to KISN.
At  6:00am the first live program, "The Swingin' 91 Deejays", began with "The Morning Mayor." Hal Raymond became the first live voice heard on "The Mighty 91-derful", although the voice introducing KISN and "The Morning Mayor" was recorded by Pat Pattee, who at the time was working at KISN's sister station KWIK Pocatello, Idaho.
Pat Pattee - Hot Rodder's Christmas
Pat Pattee - Nightwatch Aircheck 1972
What is an aircheck? In the radio industry, an aircheck is generally a
demonstration recording, often intended to show off the talent of an
announcer or programmer to a prospective employer, but mainly
intended for legal archiving purposes. A scoped (short for "telescoped" -
by analogy with pressing the ends of a hand-held telescope to reduce
its size) aircheck usually contains only segments where the announcer
is actually talking, along with a bit of the music or commercial on either
side. In an unscoped aircheck, all programming is left intact and unedited,
including music, commercials, newscasts, jingles and other on-air events.
Source: Wikipedia
History of KISN Radio
KISN was an AM Radio station licensed for Vancouver, Washington but based in Portland, Oregon, broadcasting on 910 kHz and licensed for 5,000 directional watts. During the 1960s and early 1970s, KISN was not only the number one rated rock station in the market (the station followed a Top 50 playlist), but at times also rated as Portland's most popular radio station. Originally KVAN, it flipped format to Top 40 and became KISN from 1959 until 1976, when the FCC forced it to shut down.
KVAN came on the air in 1939 on 880 kHz and moved to 910 kHz in 1941, by 1958 it was licensed for 1,000 watts and was co-owned with KVAN-TV, a TV station under construction for channel 21.
When KVAN was a country and western station in the early 1950s, Willie Nelson was one of the DJs. He financed his own first single, "No Place For Me"; the record was backed with "Lumberjack" written by Leon Payne, who was also a DJ. KVAN was sold by station owner Sheldon F. Sackett to Don W. Burden, and control transferred to Burden's company, Star Broadcasting, Inc.
KISN started broadcasting at 6 a.m. on May 1, 1959. In the previous 24 hours before its incarnation, the station continuously played "Teenage Bill of Rights" by Robby John and the Seven-Teens, which featured the words "Should we start a revolution? (Yeah! Yeah! Yeah! Yeah!)". The new station continued broadcasting from above a furniture store in Vancouver until its Kisn Corner studio at West Burnside and 10th Streets in Portland started service at 6 a.m. on November 28, 1959. Though the FCC continued to recognize the station as being located in Vancouver, the original transmitter was actually located in North Portland at Smith Lake. It was later relocated to 4615 NE 158th Avenue east of the Portland Airport with wattage expanded to 5,000 directional watts.
Within one year after beginning operations, KISN was Portland's top rated station. During one rating book in 1963, the station held a whopping 86% of the audience. Their promotions included a billboard at the airport exit proclaiming "While you've been away, we've been KISN your wife!" Among the many station jingles used was "Yours truly KISN radio." Later jingles included "The Mighty 91", "Good Guy Territory", and the short-lived "Have a happy day!"
KISN also offered Portland the unique KISN Carol Tree, whose red, blue, and green bulbs flashed to the music being played, and the KISN Aerocar, a unique combination car and plane used for traffic reports.
The station had numerous problems with the Federal Communications Commission over the years, including problems with city of license identification and the studio location, which was mostly caused by Burden's trying to associate KISN as more of a station connected to Portland rather than the city's neighbor across the Columbia River. Kisn Corner was considered a remote studio. Overnight and weekend programming, plus some weekday newscasts, usually took place at the transmitter.
In 1970, following a complaint from disgruntled former disc jockey Paul Oscar Anderson, the FCC refused to renew Star Broadcasting's broadcast licenses, citing political partisanship in the U.S. Senate campaign of Mark Hatfield on KISN.
After deciding to issue the licenses again in 1973, the FCC refused renewal again in 1975. After the U.S. Supreme Court refused to hear the case in May 1976, the FCC denied KISN's request to stay on the air, and the FCC was on hand to insure that KISN was taken off the air at the end of September 2, 1976, going so far as to require that the station broadcast their final program directly from the transmitter site. Star stations in Omaha and Indianapolis also went off the air.
After evening air personality Dave "Records" Stone said "Good night from the KISN Good Guys", the station was not even allowed to complete its last song, the Supremes "Someday We'll Be Together", going silent at 12:01 AM PDT
Several well-known radio personalities passed through the KISN studios including Pat Pattee, who save for a brief period in the early 70s was the all-night personality from 1962 to the end. All of his shows were broadcast from the transmitter except one.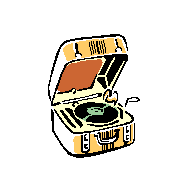 On November 28, 2014, the Western Oregon Radio Club (WORC), a non-profit amateur radio club, announced they had been granted use by the FCC of the KISN call letters for their new low-powered, non-commercial radio station assigned to 95.1 FM. Led by Ron Polluconi, President, Director Ken Seymour, and including Dirty Dave the Record Slave on their Broadcast Committee, the station hopes to be in full operation in early 2015. Erection of transmitting equipment on Mt. Scott took place on New Year's Eve, December 31, 2014.
Like any non-commercial broadcast entity, the new KISN will require listener support and donations. A Good Guy Store will be made available for listeners to purchase items such as tee-shirts, mousepads, bumper stickers, etc. with revenue being directed to station operations. -- John Ross Hart 2/6/15
~ Navigation Hint ~


Those of you who use a mouse press the Control key and move the thumb wheel at the same time. This will allow you to increase or decrease the size of the photo / article.
To return to the normal screen size press the Control key and the number "0" (zero).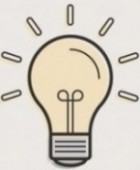 Last Updated 5/18/17